---
Resources
Art, Cuisine, Famous Italians, Festivals, Folklore, Genealogy, Holidays, Hotels, Photos, Real Estate, Sports, Travel and More
---
Guides
---
Surname Collection
Add your name to the collection.
---
Recipes
Authentic Italian recipes for you to enjoy.
---
Photo Galleries
Enjoy photos of Italy, wine making & more.
---
Proverbi
Proverbs in Italian & English.
---
Our Paesani
Weekly column dedicated to today's Italy.
by Francesca Di Meglio
---
Italian Memories
Articles on growing up Italian.
by Cookie Curci
---
Una Mamma Italiana
Articles for Italian mammas.
by Tiffany Longo
---
Learn Italian
English-Italian guides
Spanish-Italian guides.
---
Molto Italiano
Sign up for our FREE newsletter.
---
Trivia
Test your knowledge of Italy.
---
"Tu Nel Tuo Letto a Far De'Sogni D'Oro" ("Within, You Are In Bed And Dreaming Sweetly")
Abruzzi (Abruzzo)
1.


UOMO.


Tu nel tuo letto a far de'sogni d'oro,
Io dell'aperto al gelo, o mio tesoro!

DONNA.


Di te m'incresce tanto, o bel cantore!
Fredda non son, ma ho già donato il core.

2.


UOMO.


Deh! muoviti a pietà delle mie pene!
Durezza a cor gentil non si conviene.

DONNA.


Io penso nei miei sogni all'amor mio;
Tu non perdere il tempo e va con Dio!

(Repeat Verse 2 as duet.)

1.


HE.


Within, you are in bed and dreaming sweetly,
Without, I fear me, love, I'll freeze completely.

SHE.


I grieve for you, fair singer, in your trial;
Not cold am I, my heart is only loyal.

2.


HE.


Ah! let me not in pain for ever languish!
How can a tender heart not feel my anguish?

SHE.


In dreams the love I owe is only stronger;
Depart in peace, and waste your time no longer!

(Repeat Verse 2 as duet.)
---
---
---
Marzo, Eduardo. Songs of Italy; sixty-five Tuscan, Florentine, Lombardian and other Italian folk- and popular songs. New York: G. Schirmer, 1904. 90
---
| | |
| --- | --- |
| | |
| | |
Follow Us
Featured Item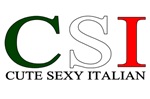 Shirts & Novelties
---
Partner Links Shops/Stores Italiansrus Gear
Proudly display the colors of Italy with these great products.

FORZIERI.com

The world largest online retailer for Premium Italian Fashions.
---
Travel