---
Resources
Art, Cuisine, Famous Italians, Festivals, Folklore, Genealogy, Holidays, Hotels, Photos, Real Estate, Sports, Travel and More
---
Guides
---
Surname Collection
Add your name to the collection.
---
Recipes
Authentic Italian recipes for you to enjoy.
---
Photo Galleries
Enjoy photos of Italy, wine making & more.
---
Proverbi
Proverbs in Italian & English.
---
Our Paesani
Weekly column dedicated to today's Italy.
by Francesca Di Meglio
---
Italian Memories
Articles on growing up Italian.
by Cookie Curci
---
Una Mamma Italiana
Articles for Italian mammas.
by Tiffany Longo
---
Learn Italian
English-Italian guides
Spanish-Italian guides.
---
Molto Italiano
Sign up for our FREE newsletter.
---
Trivia
Test your knowledge of Italy.
---
Summer Nights Breath Life Into A Garden Of Remembrances
(Grandma's Garden Yield's Magical Moments)
Page 4
Continued from page 3
Italian Memories
by Cookie Curci
I watched Grandma's small, timeworn hands move diligently among her garden plants. As she walked along her garden path her old cat, Chulet, traced her footsteps , taking half hearted swings at Nonna's dangling apron strings. I remembered when the aged cat was a frolicking young kitten determined to chase tantalizing butterflies and plump grasshoppers that thronged to the garden. Nonna was younger then, too. Her long white hair was a dark brunette in those days showing only traces of gray and the stubborn roots of a dandelion weed would have been no match for her strong, nimble fingers.
I spent that night at Nonna's, sleeping in the same cozy bedroom I'd known so well as a child; the same hand stitched quilt tenderly comforting the foot of my bed. I could hear Nonna softly tracing her footsteps from room to room as she went about her nightly ritual, latching the windows and locking the doors. My room was her last stop on her nightly sojourn. She carefully latched my windows, tightly tucked in the corners of my bed, then, as she'd done a thousand times before, she leaned over and kissed me good night and for a brief, wonderful moment I was nine years old again.
A warm night and a full moon inspired me to open my bedroom window overlooking Nonna's garden. As if expecting something remarkable to happen, I keenly surveyed Nonna's herbs and flowers under the moonlight I remembered how her herbal remedies were almost magical in their curative powers perhaps I was hoping to see some of that magic . I don't know how long I sat staring out the window.
The last glimmer of moonlight was just about to fade behind a passing cloud when Nonna's stately sunflowers, stiff as fence posts just seconds before, suddenly began shimmying violently like hootchy-kootchy dancers. Silhouetted against the moon, the imposing row of sunflowers formed a long, rhythmic conga line in this uniquely choreographed dance. A moment later, rosemary, mint and oregano stems, like scrawny ballerinas, began to pirouette and sway as they joined in the impromptu minuet. Summer blossoms suddenly unfolded, filling the air with tantalizing fragrance.
A flock of night birds feasting on the sunflowers had caused them to buckle and sway in the herky-jerky motion. Tiny winged insects and hungry night crawlers dinning on the succulent herbs had encouraged the rhythmic movement of the burgeoning blossoms. Nonna's garden had come to life, just for me, and its heart beat softly to the rhythm of summer winds and fluttering birds' wings.
| | |
| --- | --- |
| | |
| | |
Follow Us
Featured Item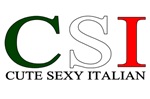 Shirts & Novelties
---
Partner Links Shops/Stores Italiansrus Gear
Proudly display the colors of Italy with these great products.

FORZIERI.com

The world largest online retailer for Premium Italian Fashions.
---
Travel